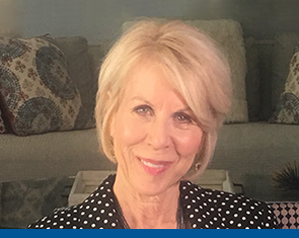 Ronni Burns
Lecturer in Strategic Business Communication
Ronni Burns is a results-oriented executive coach, professor, and management consultant. Acknowledged by hundreds of corporate leaders and entrepreneurs for her contribution to their success, her methods equip leaders with the insights and tools needed to achieve breakthrough results within their company and with their clients. A former corporate executive, Ronni understands that excellent communication skills are a competitive edge to achieve success in business.
When smart companies invest in their senior leaders, the expectation is they will achieve milestones to improve the company's culture, reputation and profitability. Ronni offers insights and practical knowledge to deliver those results. Her talent is making complex concepts easy to understand and implement. She calls herself a "Communicologist," combining her understanding of how and why people are motivated with the latest ideas and best practices for collaborative communication. Empathy is the key to successfully influence, motivate and persuade others to go along with your ideas and recommendations.
Ronni spent 17 years in a rewarding and successful career at Citigroup. Her roles included Director of Business Practices, Chief of Staff Office, Global Spokesperson, and National Sales Manager for Citicorp Investment Services. Ronni also loves teaching MBA and Executive MBA students. She is currently an Adjunct Professor of Management Communications at NYU/Stern and UMD/Smith, and an instructor at Rice/Jones in their on-line MBA program. Previously she taught Executive MBA communication courses at the Wharton Business School and has been a guest lecturer at many international schools and companies.
Industries in which Ronni has been a consultant include biotech, film, plastics, technology, energy, and government contracting. Her clients have included GE, Corning Glass, Houston Biotech, Schlumberger, Hewlett Packard, SAIC, Entergy, Lockheed Martin, United Technologies and Marriott, as well as many leading financial services companies. Her Board service includes 10 years on the Board of the Securities Industry Association (now SIFMA), a Trustee of the Institute for Rational Living, and Treasurer of NCBTMB.
Ronni Burns holds undergraduate and graduate degrees from the University of Pennsylvania and a Master of Arts in Communication Science from the University of Connecticut. She has been a Certified Professional Coach since 2009. She has held NASD licenses 7, 22, 24 and 63. In her book, Communication Essentials: A Sell-abration, she shares her insights into the complicated business of building long-lasting relationships. Her article, "Communication Will Enhance the Doctor-Patient Relationship" was recently published in Physicians Practice Magazine. A former pro bono consultant to Save the Children, Ronni currently volunteers at the Fortune Society, working with the formerly incarcerated to sharpen their interviewing skills and build the confidence that allows them to secure employment and successfully re-enter the workforce.
https://www.nydailynews.com/opinion/ny-oped-what-i-learned-from-incarcerated-men-and-women-20190725-bkbkcoa7c5fvzlpclhl2kpotka-story.html
Among the game-changing lessons Ronni Burns brings to her talks, seminars and individual sessions:
Know your audience and tailor your communication to connect and build relationships.
Anticipate resistance and overcome objections, using diffusing tactics to achieve win/win outcomes.
Build a cohesive team of people who have vastly different styles, ages and cultural backgrounds.
Improve individual leadership style, smoothing rough edges and eliminating blind spots.
Transformative tactics for relationship-driven leadership to strengthen alliances at multiple levels.
New and exciting right-brain concepts for traditional left-brained thinkers.
Crucial conversations that encourage others, even when providing constructive criticism.
How to design and deliver a presentation that is persuasive, differentiated and memorable.