ABOUT
RICE BUSINESSABOUT
RICE BUSINESSABOUT
RICE BUSINESS
Where Innovation Meets Connection
The Jones Graduate School of Business at Rice University is a forward-thinking business school for the next generation of global leaders.
From the beginning, Rice Business has prioritized connection over size. Our intentionally small classes mean you'll be part of a tight-knit group of peers and faculty, and you'll receive the personal support and expert guidance to bring your big ideas to life.
Whether you earn your MBA on our Houston campus or online, we want you to know what our students and alumni already feel: You belong here.
Get to Know Rice Business
Learn more about Rice Business and our online MBA option, MBA@Rice.
Our Educational Philosophy
Our teaching is grounded in being attentive, responsive and kind. We believe that when you treat people
right, good things follow.
Online or on campus, here's what all of our MBA programs share: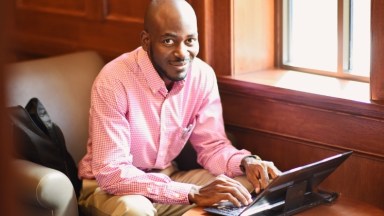 Same Innovative Curriculum
At Rice Business, entrepreneurship is a way of thinking that is central to our teaching. Our MBA programs connect you with collaborators, mentors and investors, empowering you to launch a new venture or enact big ideas within an organization.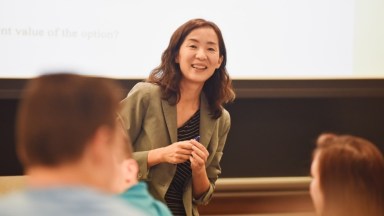 Top-Notch Rice Faculty
Each program is taught by the same accomplished Rice Business faculty. These nationally recognized professors integrate insights from their own peer-reviewed research—and explain these topics in the context of today's business landscape.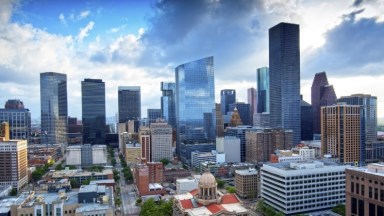 Houston-Inspired Culture
Our home in Houston is more than a campus setting—it informs our values as a hub of innovation, diversity and industry. No matter where you live, Rice brings you the vibrant energy of Houston, one of the most diverse large cities in America.3
The Rice Business Community
Joining the Rice Business family will have lifelong implications for your professional relationships and your career. You'll benefit from the support, camaraderie and lofty ambitions of some of the best in business—we have more than 8,000 alumni in 55 countries in every major industry.
Get to know some of our people and the work they're doing:
Rice Business Recognition
Nationally and globally, Rice Business continues to be recognized by major media. Rankings are based on various criteria including peer, student and recruiter assessment as well as school metrics such as admission selectivity, placement success, intellectual capital and more.
Here's a sampling of just a few of the recent rankings we've received:

Bring Your Bold to Rice
Life is unpredictable, and career trajectories are long. Rice Business sets you up with connections you can rely on. Start your online MBA journey today.