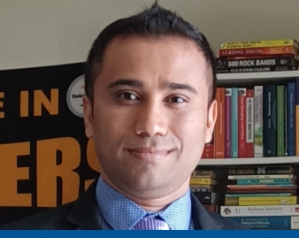 Towhidul Hoque
Lecturer in Management – Strategic Management
Towhidul Hoque is a lecturer of management and strategic management in the online MBA program at Rice Business. He is also a practitioner of AI, ML and big data analytics in the industry to innovate digital products and solutions driving top-line growth and bottom-line impact.
Currently, Towhidul is driving digital transformation at Carpenter Technology Corporation as senior director of digital transformation. Prior to joining Carpenter, he has led and executed data analytics and digital strategies for startups and Fortune 500 companies in financial services, eCommerce and manufacturing industry.
A strategic and visionary leader dedicated to product development, business optimization, and change management in the face of rapidly evolving and changing markets' needs, Towhidul is passionate about using big data and digital technologies to solve complex business problems and make a positive impact on human beings.
In the past, he has taught Business Analytics, Machine Learning, and Python Programming at Saint Joseph University for its MS in decision and system science. Towhidul holds a B.S. in economics from Chittagong University, an MBA from Haub School of Business at Saint Joseph's University, and MS in applied statistics with deep learning concentration from Villanova University.
He is an avid Pittsburgh Steelers fan and amateur guitar player who enjoys traveling, camping, stargazing and birds watching.